It's that time of year! It's time for baby's first Christmas photoshoot. Who doesn't get excited about baby's first Christmas?
If you want gorgeous photos but a professional photoshoot isn't in your budget this year, we're here to help with some baby Christmas photo ideas you can try at home.
Baby Christmas Photo Ideas
Baby Boy Photo Ideas
There are some cute photoshoot ideas for baby boys at Parents.com. They have some great ideas for baby Christmas photo outfits as well. Some of their suggestions include:
Dress them in soft, button-down shirts that look cute untucked. You'll have a hard time keeping them tucked in, for sure.

Don't try to put them in pants that button or zip. Elastic waist pants will make diaper changes and trips to the potty much easier.

Go with a clip-on tie or bow tie at your own risk. Your little one will tug on it 'til it falls off.
Another cute idea is to add a hat into the mix, just don't be surprised when they yank it off. If you can get a good picture before the hat comes off, you've got gold. A big crowd-pleaser is a candid photo of your baby admiring a string of lights while all other lights are off.
Baby Girl Photo Ideas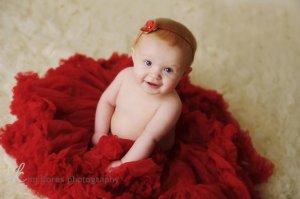 For baby photoshoots, it's all about making it as easy and stress-free as possible. Your main focus should be that your baby's clothes are easy to put on, keep on, and wear. Don't pick anything too uncomfortable. Parenting.com had some suggestions for baby girl photoshoots as well:
Skirts are liable to ride up, so use tights or a diaper cover to keep diapers from showing.

To make sure tights aren't too tight, buy one size up. It's okay if they bunch up. It won't take away from your adorable Christmas photos.
If you want to go for a minimal approach and let your baby's smile shine, use minimal props. Take the above photo for example. A baby girl wearing a fanned out red skirt and a sweet red headband with a flower is simple and perfect.
Twin Baby Photo Ideas
There are endless adorable baby Christmas photo ideas for twins on Pinterest. There are the two onesies that each spell one-half of the word "Noel." Some onesies say naughty and nice. And of course, if you're lucky enough to have triplets or more, there are onesies or shirts that each says "ho." One onesie alone is just strange but all lined up you get "ho, ho, ho!" Santa would be proud!
Newborn twins may be the easiest twins to photograph, whether it's for a Christmas shoot or other time of year. You can just bundle them up together, as they were in the womb, and it makes for a beautiful shot. To make your newborn twin shoot more Christmasy, add some gold, red or green accessories.  
Baby and Dog Christmas Photo Ideas
Posing a baby and a dog for a Christmas photoshoot or otherwise is without a doubt difficult. On one hand, you've got an infant that wants to move around and explore. On the other, you've got a dog with, well, the same issue. To help with the dog, you should keep some treats handy to reward them for being still.
There aren't many Christmas photos on Instagram of babies and dogs together, but there are a ton of Christmas dog photos. Why not put the two together? One of the cutest ideas on Pinterest is dressing your dog and your baby up in matching Christmas pajamas. There's almost nothing cuter than a dog in people's clothes, second only to a baby or toddler in their pajamas.
Family Christmas Photo Ideas with Baby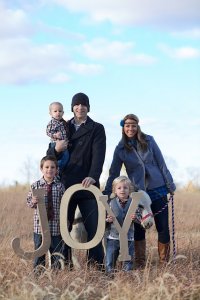 The best family photos with baby have to be the ones that represent baby's first Christmas, like a photo of mom and dad sitting by the tree while baby opens their first present from Santa. Of course, Dad has to get dressed up as Santa. If you've got a big family, there are plenty of creative ways to make your family photos special.
The key to a great family photo session with a baby is to keep it simple. The focus of all your photos should be you and your family. Keep the outfits and setting simple and not too busy.
Christmas Photo Backdrops
If you search Christmas photo backdrops on Pinterest you'll find a lot of creative ideas. You've already got wrapping paper, bows, ornaments and much more to help you. You can come up with a baby Christmas photo idea with what you already have. Go to the craft store and you're sure to find plenty of neat stuff to use. Here are some examples of Christmas backdrop ideas seen on Pinterest.
Gold fabric with Christmas ornaments hanging off.

A wall of Christmas themed gift bows.

A plain white wall with dazzling Christmas lights hanging off of it.

A large piece of plywood painted with chalkboard paint. Take some chalk and get creative. You could draw a Christmas tree or a snowman and write a little holiday message.
Baby Christmas Photo Props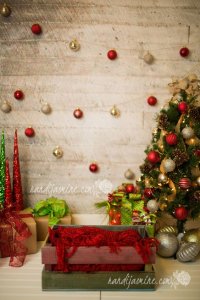 Like with Christmas photo backdrops, you already have the perfect props on hand. You don't want to go too cheesy with your props. If you have Christmas ornaments, lights or battery-operated candles, you're good to go. The lights are the key to a beautiful Christmas photo with your baby.
Let's not forget the stockings and gift boxes. Nothing's cuter than a newborn baby asleep in an oversized stocking. If your little one can sit up on their own, put them in a cute, decorated gift box. Add a little bow on top of their heads for good measure.
Now that we've gone over some popular toddler and baby Christmas photo ideas, take a shot at some of them. If you don't like any of these ideas or you're feeling extra creative, come up with some of your own. We'd love to see some of your adorable photos. Remember to keep it simple and dress your kids in comfy and easy clothes. Keep your backdrops and props minimal and let your babies' smiles shine!
PS Yardie Baby's closet clothes dividers gives you a great way to organize your clothes. Shop here.