The Best Baby Fashion for the Beach: How to Dress Your Baby for Sun, Sand, and Surf
Summer is here and it's time to hit the beach! But with a new baby in tow, it can be tough to know what to pack and how to dress them for a day in the sun, sand, and surf. Not to worry, we've got you covered with some tips and tricks for dressing your little one for a day at the beach.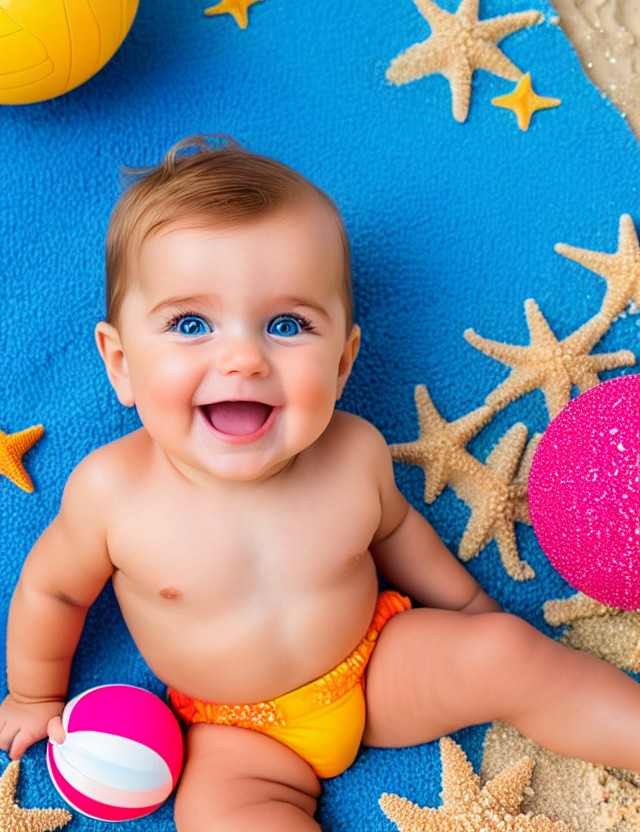 Sun Protection
The most important thing to consider when dressing your baby for the beach is sun protection. According to the American Academy of Pediatrics, babies have sensitive skin and are at a higher risk for sunburn, so it's important to dress them in lightweight, breathable clothing that covers as much of their skin as possible. Long-sleeved rash guards and swimsuits with built-in UV protection are a great option, as are wide-brimmed hats and sunglasses. For added protection, make sure to apply a baby-safe sunscreen with an SPF of at least 30 and reapply every 2 hours or after swimming, according to the Skin Cancer Foundation.
Comfort and Convenience
Comfort and convenience are key when dressing your baby for the beach. Look for clothing that is easy to get on and off, such as snaps or stretchy fabrics, and avoid anything with buttons or zippers that might be difficult to maneuver. Also, consider the type of beach you'll be visiting – if it's a sandy beach, you'll want to avoid clothes that will easily get filled with sand, for example, cotton clothes are not suitable for sandy beaches. Opt for quick-dry fabrics such as polyester or nylon.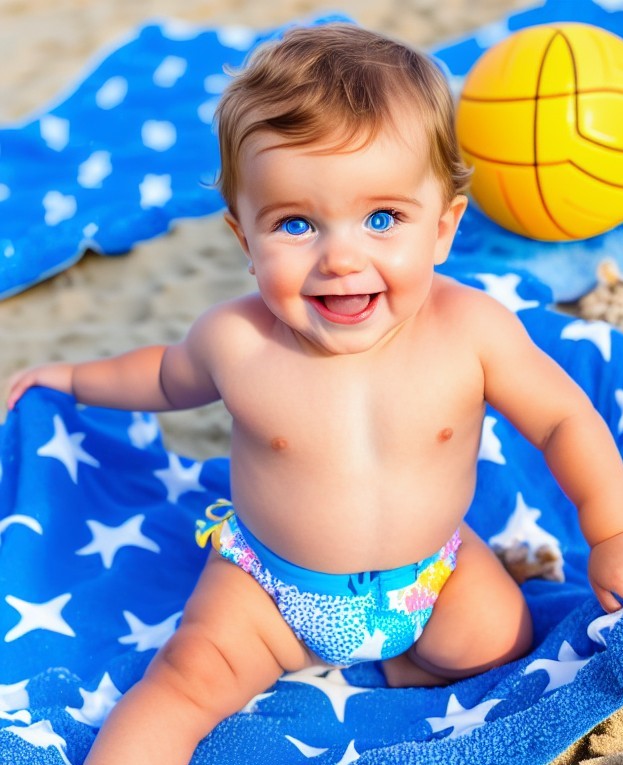 Stylish and Cute
Just because you want to dress your baby for practicality, doesn't mean you have to sacrifice style. There are so many adorable swimsuits, rompers, and cover-ups available for babies that are both functional and fashionable. Whether you're looking for something colorful and playful or something more classic and timeless, there's a baby beach fashion option out there for you. For example, you can dress your little girl in a frilly one-piece swimsuit or a cute floral romper, while your little boy can rock a stylish trunks and a sunglasses.
Accessories
Don't forget the accessories! A fun beach bag or a trendy baby carrier can make all the difference when you're out and about with your little one. And don't forget to pack a few essentials, like a beach towel, a sun shade, and a few toys for your baby to play with in the sand. Also, consider investing in a baby beach tent, it will provide a shaded and comfortable space for your little one to nap and play while keeping them away from the sun.
To make your day at the beach more enjoyable and less stressful, you can also pack a baby carrier, it will allow you to carry your little one around while keeping your hands free. Also, a baby beach chair will make feeding and changing your baby a breeze.
Dressing your baby for the beach doesn't have to be difficult. With a little bit of planning and a few key pieces, you can keep your little one safe, comfortable, and stylish all summer long.
Want more tips and inspiration for dressing your babyfor the beach? Check out The OrgMomLife guide to beach baby fashion for more ideas and advice. And don't forget to share your own beach fashion tips and pictures of your little one on the beach on social media using the hashtag #beachbabyfashion.
I can attest to the importance of personal anecdotes and real-life examples in making a blog more relatable and engaging. And remember, safety should always be the first priority when it comes to dressing your baby for the beach. By following these tips and dressing your little one in UV protective clothing, a wide-brimmed hat, and applying sunscreen, you'll ensure that your baby is protected from the sun's harmful rays while still looking adorable in the latest beach fashion.
In conclusion, dressing your baby for the beach can be a fun and enjoyable experience, by following the above tips and incorporating the best fashion, comfort, convenience and safety, you will make your day at the beach more enjoyable and less stressful. Don't forget to capture the moment, take lots of pictures and share them with your loved ones.
Don't forget to share this post and let us know your own tips and tricks for dressing your baby for the beach. Happy summer!