A baby shower theme isn't compulsory, but many hosts discover that having a theme allows guide party decisions into place. Whether you go with a distinguishing color scheme or a favorite holiday destination of the parents-to-be, a theme can act as an anchor for the party's decor, food, and activities. With so many fun options available it can get difficult to pick the right theme for your baby shower.  Before you pick anything, try thinking about what is it that you like. Or if you're organizing the baby shower for someone you know think about what the parents-to-be are passionate about. Do you need some inspiration?
We rounded up ten beautiful baby shower theme ideas for a day that the parents to be will cherish forever.
Honey Bee-Themed Baby Shower
The list starts with this gender-neutral baby shower concept. It is just gorgeous and very easy to recreate. It is appropriate for both girls and boys. Tiny honey pots or beeswax lip balms make buzz-worthy baby shower favors. White, yellow, black, and honey-gold balloons with pops of flowers are easy to make into a fun table. And a honeycomb cake rounds out the darling decor for your queen- or king-bee-to-be.
Rainbow Baby Shower Theme Party
Showering a rainbow baby mama is a truly amazing way to honor one of life's greatest gifts. A rainbow-themed baby shower should explode with color and joy. Play up the cute baby shower theme with balloons, treats, and toppers. It's best to avoid overdoing with large details like the tablecloths. A classic rainbow is gender-neutral, but a baby boy's rainbow shower might use a chic grayscale color scheme.
You "Donut" Know How Loved You Are Themed Baby Shower
A donut theme is charming for a baby shower. And the best part is that you can make it work for boys and girls. This party featured bundles of tempting donuts throughout, and lots of pink and white, icing-inspired details. You can also DIY a photo or cake table backdrop by simply buying a plain white tablecloth and taping little sprinkle-like pieces of colored paper to it. Oh, and "donut" forget to serve coffee at this breakfast shower, no matter the time of day.
Tea With Mommy To Be Themed Baby Shower
Future moms love tea parties. Honor the English tradition of drinking tea with pastel decor and treats like tiny sandwiches. You could even ask your guests to don their Duchess-like fascinators. Mommies love tea parties. And, this cute theme does not disappoint. Deck out the space in pretty pastels or pops of flower-patterned print.
Disney Movie-Themed Baby Shower
Maybe highlight one specific movie that you like. It could be the Lion King or Micki Mouse, it's all up to you. This theme is perfect for parents that are Disney-loving It works the same for a girl or boy baby shower idea. It can also work on twins.                                                                                          
The Minimalist Baby Shower Theme
A baby shower only in one color is the ultimate class definition. Decorate the space in different specters of white and cream for a dreamy day that makes Mama feel extra special. White wrapping paper will feel convenient.  Having completely white balloons as far as the eye can see will make the space feel fun. Even if white is the dominant color.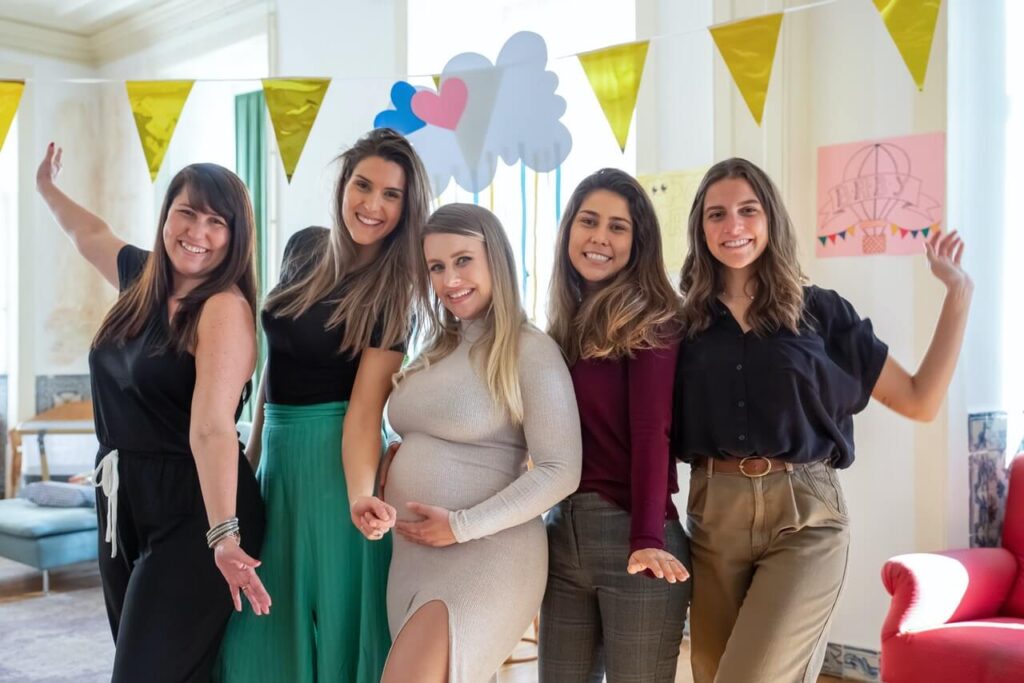 Harry Potter Baby Shower Theme
Parents who are big fans of Harry Potter might love a shower that drags motivation from the iconic book and movie series. Your people can become Hogwarts as you serve up non-alcoholic butterbeer.
Vintage Themed Baby Shower
Objects such as Pearls, lace, and other elements that speak to a parent's love of thrifting can create a sweet, elegant throwback theme that's especially perfect for a baby girl shower (but works equally well-celebrating baby boys).
Bunny Baby Shower Themed
Have you heard of anyone who doesn't love cute bunnies? This timeless baby shower theme is sure to please the crowd. starting from grandma and grandpa who can't wait. It also pairs well with everything from invitations to balloons.
Twinkle Twinkle Little Star Themed Baby Shower
The little star of the day might not be here yet.  But their light is already shining! A gold or silver palette, a little cake, and flighty balloons create a simple and sweet "Twinkle Twinkle" shower. Or a sprinkle that will have the mama-to-be completely starry-eyed!
This timeless lullaby lends itself to straightforward, touching, and charming details. Other people mostly use soft whites, blues, silver, and gold as colors.