The Best Baby Fashion for Travel: How to Dress Your Baby for Comfort and Convenience
Traveling with a baby can be a challenge, but it doesn't have to be when it comes to dressing them. With the right clothing choices, you can ensure that your little one is comfortable and stylish during your trips. In this article, we will explore some of the best baby fashion options for travel and how to choose the perfect outfits for your baby.
Choosing the Right Fabric
When it comes to baby clothing, the fabric is of utmost importance. You'll want to choose fabrics that are soft, breathable, and easy to wash. Cotton is a great choice as it is comfortable and easy to clean. Avoid fabrics that are heavy or itchy as they can irritate your baby's skin. For example, a 100% cotton onesie is a perfect option for a comfortable and easy to clean option.
Consider the Weather
It's important to consider the weather when choosing baby clothing for travel. For warmer weather, opt for lightweight and breathable clothing such as cotton sundresses or shorts. In colder weather, choose clothing made from thicker fabrics such as wool or fleece. Layering is also a great option, so your baby can easily adjust to changing temperatures. For example, if you are traveling to a colder destination a fleece lined jacket would be a great option to keep your baby warm and comfortable.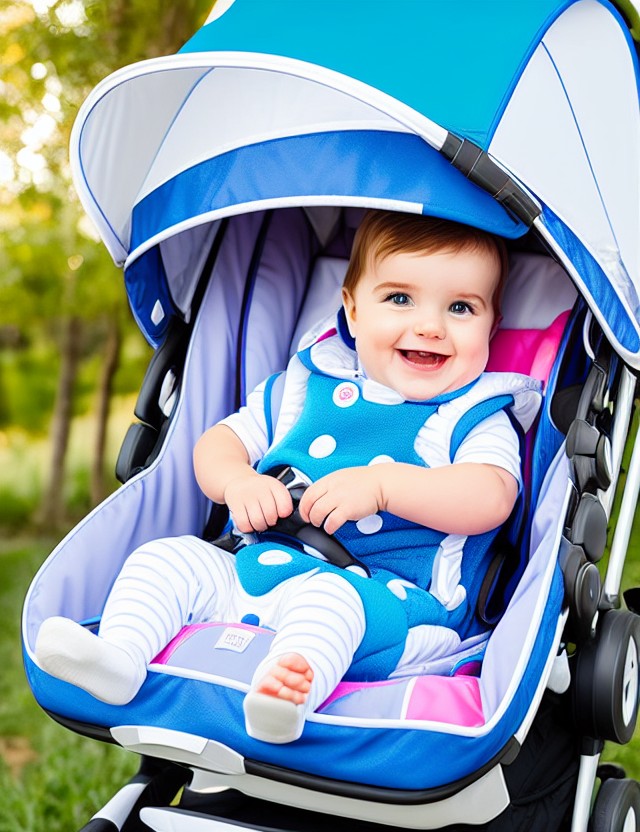 Easy to Put On and Take Off
When traveling, you'll likely be doing a lot of dressing and undressing. Choose clothing that is easy to put on and take off, such as snaps or zippers. Avoid clothing that requires a lot of buttons or ties, as they can be a hassle when you're trying to get your baby dressed quickly. For example, a romper with snaps on the bottom is a great option for easy diaper changes.
Fashionable but Practical
Just because you want your baby to be comfortable and practical doesn't mean they can't be fashionable too. There are many stylish baby clothing options available that are perfect for travel. Look for clothing that is versatile, such as a cute romper that can be dressed up or down. For example, a denim overall with a button-up shirt underneath can be dressed up or down depending on the occasion.
Accessorize
Accessories can be a great way to add some style to your baby's outfit while also keeping them comfortable. Consider adding a stylish hat or a cute pair of shoes to complete the look. You can also add a lightweight blanket or a hooded jacket that can be easily removed and put on as needed. For example, a wide brimmed hat can protect your baby's delicate skin from the sun and a pair of soft soled shoes can keep their feet warm and protected.
Packing and Organizing Tips
When traveling with a baby, it's important to be prepared and organized. Pack extra clothing and diapers, as well as any necessary baby gear such as a stroller or baby carrier. A good tip is to pack a few extra outfits in case of any accidents or spills. A travel-size pack of wipes and a compact changing pad are also essential items to have on hand. Consider packing your baby's clothes in rese
alable bags or packing cubes to keep them organized and easily accessible. Additionally, a portable playpen or travel crib can provide a safe and comfortable sleeping option for your baby while on the go.
Managing and Soothing your Baby on Long Flights or Car Rides
Taking a long flight or car ride with a baby can be a daunting task, but there are ways to make it less stressful. Consider booking a flight or car ride during your baby's nap time, and bring along a favorite blanket or toy for comfort. Pack a few snacks and bottles for your baby to have during the trip. A baby carrier or sling can also be helpful for keeping your baby close and comforted during the journey. If your baby gets fussy, try soothing them with a pacifier or a lullaby on your phone.
FAQ for New Parents
Q: Can I bring my own baby food on a flight?
A: Yes, you can bring your own baby food on a flight. Most airlines will allow you to bring baby food and formula in your carry-on bag. It is always a good idea to check with your airline for specific guidelines.
Q: How do I keep my baby entertained during a long car ride?
A: There are several ways to keep your baby entertained during a long car ride. You can bring along a few of their favorite toys, books, or music to keep them occupied. For younger babies, a rear-facing car seat mirror can allow them to see you and the surrounding environment. For older babies, you can also bring along a tablet or DVD player with their favorite shows or games.
Q: How do I choose the right baby carrier for travel?
A: When choosing a baby carrier for travel, consider the type of travel you will be doing. For long walks or hikes, a backpack-style carrier is a good option. For city travel, a wrap or soft-structured carrier is a good choice. Be sure to choose a carrier that is comfortable for both you and your baby and that can be easily packed and stored when not in use.
Latest posts by SweetSmartWords
(see all)