Did you know that you can make super healthy homemade fermented sodas for you and yours kids with only ginger and sugar? That's correct! The ginger bug starter is made from a free-range culture that probably is already floating around your home. It's super easy to startup and maintain so that you can make your own healthy probiotic soda that you and your kids will love.
The ginger bug starter is easy to make in your own home. It's the simplest way to make a probiotic sparkling beverage. Unlike kombucha, all you need to get started is sugar and ginger root!
Prep Time: 15 minutes
Yield: 3 1/4 cups 1x
Category: Beverages
Method: Fermented
Cuisine: British
Diet: Gluten Free
INGREDIENTS
2-4 large pieces of fresh organic ginger (enough to make fill a 32oz Mason Jar)
2-3 tbsp sugar
2 1/4 cups of water (chlorine free)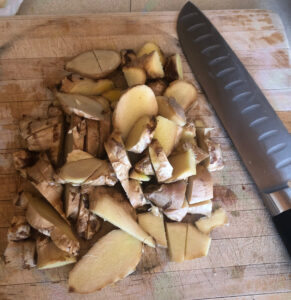 INSTRUCTIONS
Crop 3 ginger root and then put ginger into the 32 oz jar. Put in to fill to about one inch below the top of the jar. (Don't peel the ginger because the skin helps with fermentation).
Add sugar on top on ginger in the jar.
Fill Mason jar with water until the water reaches the top on the jar.
Close lid of jar and shake until the sugar is dissolved.
Open the lid and just sit the top to let a little air in (Note: you can also cover jar top with a cloth (or coffee filter) and secure in place with the cap or rubber band.
Place the jar somewhere warm and dark to ferment (a kitchen cupboard is ideal.)
For the next 3 days do the following each day (Feeding your bug):

Pour off about 1/4 of the liquid
Add some new sugar
Tighten the cover and give it a good shake.
After shake loosen the cover and set it back on top.

After 2-3 days it should start to bubble.
Check each day and once it is really bubbly you are ready to make ginger ale or ginger bug sodas.
Traditionally ginger bug is used to make spicy ginger beer. However it can also be turned into all sorts of different flavoured probiotic soda pops.
Click Here to see how to make your own probiotic soda.
NOTES
The ginger bug needs to feed on sucrose, so avoid using alternative sweeteners. Coconut sugar is fine, but honey and maple syrup are not. I like to use raw sugar, which is unrefined and makes a deep brown soda. If you use white sugar then you'll have a pale soda.
Once you are done making your soda, just store the ginger bug in a cool dry place and the next time you need to make a soda just take it out and feed it for a day or two before. Wait until you see it start bubbling again and now you can make your next batch of soda.
Latest posts by yardieproductions
(see all)